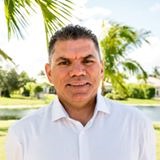 Juan Martinez is an experienced real estate sales associate and TeamSimpkin's lead buyer's specialist. 
Juan provides a wealth of valuable experience and demonstrates the requisite strategic vision to achieve successful bottom-line results. With international and local expertise, Juan is able to assist our South Florida and Foreign national buyers. Over the past few years, Juan has positioned himself as an expert in handling our Sports clientele which includes numerous professional athletes. 
Juan is committed to serving clients with the highest professional standards and is staying up to date with the latest practices in the real estate market.
Juan is fluent in Spanish, grew up in the Miami area, and attended Barry University where he earned a Business Management Degree.